The annual Lake Hopatcong Block Party for 2021 is scheduled for this Saturday, October 2, 2021, from 10:00 AM to 4:00 PM, at Hopatcong State Park, 260 Lakeside Blvd., Landing. Join in the family fun and help benefit our lake.
This is the largest Lake Hopatcong event for 2021 and offers a unique Main Street-style experience for shopping, food, games, kids train rides, and much more in a beautiful lakeside setting. The annual block party is hosted by the Lake Hopatcong Foundation (LHF) as an important fund-raiser for the lake.
With more than 150 vendors, including crafters, food vendors, businesses, non-profits, and community organizations, there's something for everyone!

Additionally, first-responders from Jefferson, Roxbury, and Hopatcong will be on hand, as well as Jefferson's fireboat DEFENDER. And Roxbury Police Department Community Outreach and Roxbury Fire Company No. 2 will provide safety information and a touch-a-truck opportunity.

Pictures from past years...

Passport Adventure:
The Passport Adventure encourages guests to explore the Block Party. Visit participating sponsors, get the required stamps, and submit your passport to be entered in a drawing for a prize of your choosing (valued up to $799)! (One passport per household).
Children's Scavenger Hunt:
For guests 12 years and younger, the hunt includes hands-on activities, fun giveaways, and lots of learning opportunities about life at Lake Hopatcong. Complete cards and return them for a free Cliff's Ice Cream Skyscraper coupon (while supplies last)!
50/50 Raffle:
Raffle tickets will be available for $10.00 for 10 tickets and $20.00 for 30 tickets. The drawing will take place at 3 pm. Winners need not be present, contact information must be provided. Proceeds will benefit the Lake Hopatcong Foundation's efforts toward a vibrant and healthy lake Hopatcong.
Dog Friendly:
You are welcome to bring your dog to the Block Party! Search out our "Canine Crew" tent and our "Pooches & Smooches" photo opportunity for fun with Fido. Please note, all dogs must be on a leash. All pets must be cleaned up after. No dogs are allowed on the beach as per State Park rules. Also, keep in mind, crowds can get quite large.
Meet the Mayors:
The Block Party will also include a Mayors Lane, which will enable guests to interact with town officials from Jefferson, Mount Arlington, Hopatcong, and Roxbury.
Parking: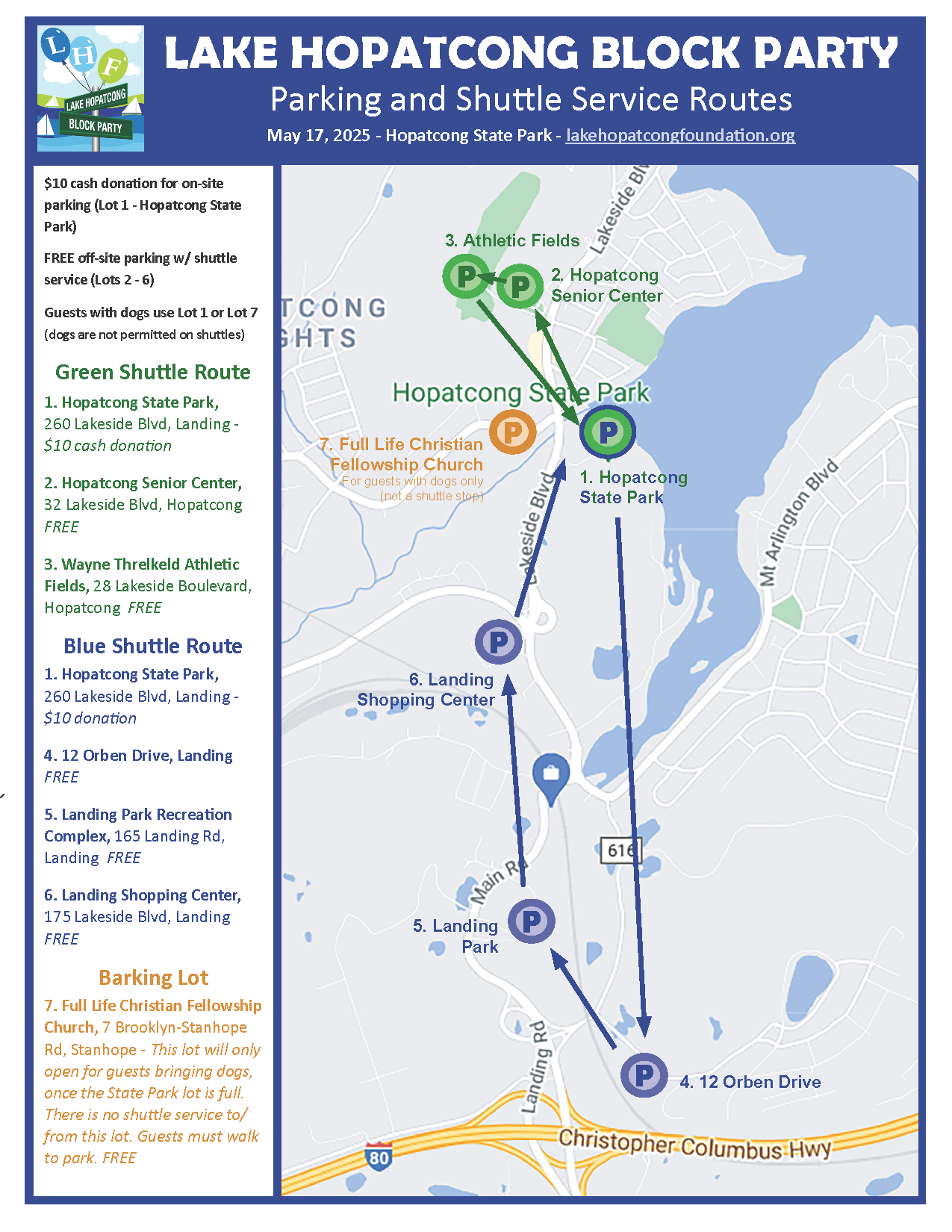 Click to OpenThere are EIGHT parking options on October 2 – the closest being onsite at the State Park, for a $10 donation to the Lake Hopatcong Foundation.
2021 Block Party parking options
Hopatcong State Park – $10.00 donation – 260 Lakeside Blvd, Landing
Hopatcong Senior Center – FREE – 32 Lakeside Blvd, Hopatcong
Wayne Threlkeld Athletic Fields – FREE – 28 Lakeside Blvd, Hopatcong
12 Orben Drive – FREE – Landing, NJ
Landing Park Recreation Complex – FREE – 165 Landing Rd, Landing
LHF Environmental & Cultural Center – FREE – 125 Landing Rd, Landing
Landing Shopping Center – FREE – 175 Lakeside Blvd, Landing
Full Life Assembly of God Church – **GUESTS WITH DOGS** – 7 Brooklyn-Stanhope Rd, Stanhope
Attention Dog Owners: One of these eight parking lots is within walking distance (at Full Life Assembly of God Church) and is reserved for guests who plan to bring their dogs, as dogs are not permitted on the shuttles that will ferry the majority of attendees from offsite lots. This lot will only open when the lot at Hopatcong State Park fills to capacity.
COVID-19 restrictions and protocols:
Federal mask mandates require face masks on public transportation and masks will be required to ride on all event shuttles.
The CDC recommends masks in all public indoor spaces and suggests considering masks in crowded settings. To facilitate a safer environment, hand sanitizer will be available throughout the event. In addition, the food court will have added space between tables and sanitizing wipes will be provided. Federal mask mandates require face masks on public transportation and masks will be required to ride on all event shuttles.
More About the Lake Hopatcong Foundation:
The Lake Hopatcong Foundation is a registered 501(c)(3) nonprofit dedicated to protecting the lake environment and enhancing the lake experience by bringing together public and private resources to encourage a culture of sustainability and stewardship on and around New Jersey's largest lake, for this and future generations. To learn more, visit lakehopatcongfoundation.org.
---