The Sussex County Historic Court House in Newton was the setting for the Annual Reorganization Meeting of the Sussex County Board of Chosen Freeholders on Monday, January 8, 2018.
This year's Reorganization was postponed due to a winter storm which brought with it 4 inches of snow and strong winds resulting in temperatures that felt like they were below zero. In spite of the inclement weather, the work of the County continued, and Freeholder Herb Yardley was sworn in at the home of the Honorable Gerald B. Hanifan. Monday's meeting saw the swearing in of a new Freeholder Director, a new Deputy Director and a new Clerk of the Board.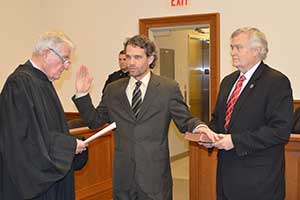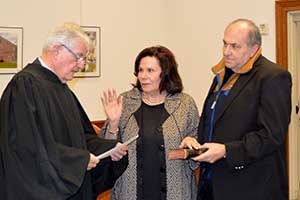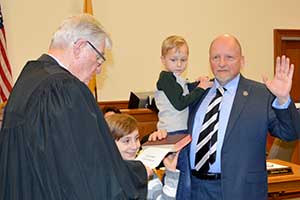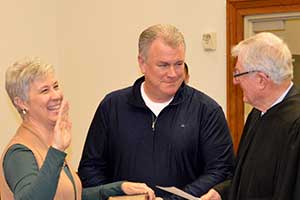 New Faces for 2018:
Joining the Board for a 3-year term after his victory in November's election is Mr. Herbert Yardley, who has over 36 years of experience in Public Health. He received his undergraduate degree from Newark State College (Kean University) and has a master's degree from Montclair State University. He has a long and distinguished career having worked in Edison Township, Warren County, Denville, and then Sussex County. He became the Administrator/Health Officer of the Sussex County Department of Environmental and Public Health Services in 2008.
As Administrator, Freeholder Yardley oversaw all programs within the Department of Environmental and Public Health Services including the Public Health Emergency Preparedness Program, Environmental Health, Public Health Nursing, Special Child, Mosquito Control, HAZ-MAT, Weights and Measures, and Medical Examiner's Office. The Health Department provided health and environmental services to 24 municipalities in the county. Since September 11, 2001, the field of Public Health has expanded to include preparedness for terrorist events involving biological and chemical agents.
Freeholder Yardley has lived in Stillwater Township for over 30 years with his wife Pat. They have two sons Daniel and David, and have 4 beautiful grandchildren, Zachary and Drake who live in Stillwater and Amelia and James who reside in Alexandria, Virginia. He has served as a Stillwater Township Committeeman, a County Republican Committeeman, Deputy Mayor, and Mayor of Stillwater. He is presently a member of Stillwater Township Fire Department and Newton NJ Moose Lodge 432.
Also being sworn in as Clerk of the Board of Chosen Freeholders was Teresa Lyons. In addition to a corporate background in shareholder relations, she has more than 28 years of experience in municipal government. Ms. Lyons has worked in the Boroughs of Westwood, Stanhope and Bernardsville, and in Washington Township. Throughout her career she has attained a variety of skills by serving as an Administrative Officer for Planning, shepherding Capital Improvement projects in downtown Westwood, serving as Borough Administrator, and as a Municipal Clerk. She and her son Jonathan are residents of Long Valley, New Jersey.
New Positions on the Board:
Freeholder Director Jonathan M. Rose was elected to the Board of Chosen Freeholders on November 3, 2015.
Freeholder Deputy Director Sylvia Petillo was elected to the Board of Chosen Freeholders on November 8, 2016.
Also returning to the Board in 2018:
Freeholder George F. Graham has served on the Board of Chosen Freeholders since April of 2013.
Freeholder Carl Lazzaro has been on the Board since January of 2016.

During remarks, Freeholder Director Rose congratulated the newcomer to the Board, and gave his thanks to Carl Lazzaro for his leadership as Freeholder Director in 2017. He also expressed his gratitude to the other members of the Board, the Board members who have served the County historically, the Administrator, the County employees, and the citizens of Sussex.

He went on to say, "Here in northwest New Jersey, back in 1753, Sussex County was chartered. For almost 264 years, Freeholders before us have worked hard to make our county a good place to live, work and raise a family. They have struggled to keep taxes low and to properly position the role of government within our society.

From the depths of the mines in Franklin and Ogdensburg, to the heights of High Point in Wantage, our County is filled with good, decent people. We provide food for our neighbors, and labor for New Jersey's cities. We provide shelter for those in need and care for those who are suffering. We have sent our sons and daughters to Afghanistan and Iraq. We care for those who have come home, and for the families of those who have not.

Here, in Sussex County, we have the best people in the state, we have the best farms in the state, we have the best places to live, and we deserve the best government.

With that in mind, I challenge this Freeholder Board and our county employees to tackle the tough problems in 2018. Specifically, I challenge this Board and all those who work for it to:

Solve the funding and utilization issues with our 911 center;

Work with the unions and insurance providers to reduce runaway employee healthcare costs;

Make changes to the county's Administrative Code to increase transparency and citizen oversight;

Bring our tax increases down to no higher than the rate of inflation; and finally

Begin litigation against those bad actors who saddled the county with the failed solar project and subsequent bailouts.

This board and our county employees can make this, and much more, happen in 2018. Our citizens both deserve and expect nothing less."
Regular meetings of the Board of Chosen Freeholders are held on the second and fourth Wednesdays of each month (unless otherwise noticed) at 7 p.m., in the Freeholder Meeting Room, Sussex County Administrative Center, One Spring Street, Newton, New Jersey. The public is invited to attend.
For additional information on Sussex County Government Departments and Offices, services, news, and events, please visit www.sussex.nj.us.