The following is your recap of the Regional News in your area for the last week ending 11/02/2019.
During the last week, George from Seinfeld Talked about his days Fishing on Lake Hopatcong, Multi-Kilo Drug Traffickers from Netcong enter Guilty Pleas and a great story about the NJ State Police saving a life.
As Jason Alexander gives his acceptance speech at the New Jersey Hall of Fame Induction Ceremony, he discusses his childhood, and fishing on Lake Hopatcong.
Livingston...
Two Multi-Kilo Drug Traffickers Enter Guilty Pleas in Connection with September 2018 Seizure of 20 Kilograms of Heroin and Fentanyl
Recently, Sgt. Ian Fenkel, of the State House Complex Security Unit, was surprised with a heart-warming message from a very unlikely person.
He was previously assigned as a detective in the Troop "C"...
Wendy Ciardi from the Hopatcong Pound Project Safehouse held a very creative Paint and Sip fundraiser on October 23, 2019 at Pavinci Italian Grill to a group of budding artists.
The event featured...
On 10/27/2019 at approximately 1:50 am Andover Township Officers were dispatched to The Bare Den on Route 206 in Andover Township for the reported person struck by a motor vehicle in the parking lot.
The...
Project Self-Sufficiency is soliciting assistance for hundreds of low-income families who need a little extra help this season, by asking area residents...
Morris County Crimestoppers Needs Your Help to Solve This Case — Reward Offered
Morris Plains Police are seeking the public's help to obtain information...
TRENTON – Today, Governor Philip D. Murphy urged New Jersey's high school girls to participate in the 2020 Girls Go CyberStart challenge, a skills-based...
The Morris County Sheriff's Office K9 Section is adding talent to its kennel of police dogs through the courtesy of donations of a Labrador Retriever...
A missing Sussex County teen was found dead on Monday, authorities said.
The body of Jordin Tenk, 15, of Highland Lakes, was found around 12:30 p.m.,...
The annual Season of Hope Toy Drive has served thousands of children in northwestern New Jersey for many years. The initiative solicits donations...
Hopatcong News:
On October 30, 2019 the four candidates running for the three positions on the Hopatcong Board of Education faced off on their qualifications and where...
November is upon us and you know what that means…Yes, the members of the Hopatcong Police Dept and PBA Local 149 will be participating in No-Shave...
The Sussex County Board of Chosen Freeholders, the Sussex County Division of Senior Services and the Veterans Committee cordially invite you to attend...
Mr. Arthur DiBenedetto, Hopatcong Superintendent of Schools, Announces – Hopatcong Borough School District had a very successful School Violence Awareness...
Mr. Arthur DiBenedetto, Hopatcong Superintendent of Schools, Announces - On October 21, 2019 students and staff at Durban Avenue School in Hopatcong...
Art DiBenedetto, Hopatcong Superintendent of Schools, Announces - Hopatcong Middle School Counselor, Danielle Manisa and 8th grade School Counselor,...
Jefferson Township News:
The Jefferson Township Police Department never miss a community fundraising event, and once again will join the police forces across America in the No...
Jefferson Township School Bands and Choruses will be performing in the 14th annual Christmas in the Village event scheduled for Saturday, December 7...
The Jefferson Township Recreation Department's Karate Program will begin a 5-week winter session on Monday, November 25, 2019 and continue through...
The Jefferson Arts Committee is excited about the Village Market Place Vendors that will be set up at Jefferson Township Fire Company No. 1's firehouse...
Mount Arlington News:
Mount Arlington Patrolman Ryan Sherburne recently completed the Top Gun school for narcotics investigations.
Top Gun is an advanced level course instructed...
Roxbury News:
ROXBURY, NJ (November 1, 2019) – Jefferson Elementary School in Roxbury Township participated in a month's worth of activities devoted to creating...
ROXBURY, NJ (November 1, 2019) – Parents and teachers agreed this year that fourth graders at Nixon Elementary School in Roxbury Township would incorporate...
Kenvil, NJ (October 3, 2019) – Throughout the month of October Roxbury Township has dispatched groups of volunteers that included young scouts, high...
Roxbury, NJ (November 1, 2019)
—Roxbury High School honored academic excellence on Thursday, October 10th with its annual Academic Excellence...
ROXBURY, NJ (November 1, 2019) – Roxbury High School percussion students recently performed at the New Jersey Percussive Arts Society Day of Percussion...
Lake News:
LHF | By Holly Odgers - Laim and Ben will be at Little Nickis this Saturday collecting donations for the Lake Hopatcong Foundation.
Four students...
The state Department of Environmental protection reports that recreational water use restrictions, due to a harmful algal bloom, have been
lifted for...
Lake Hopatcong Foundation | By Bill Woolley: At this rate, Craig Dawson may never have to buy another T-shirt in his life.
The stalwart volunteer...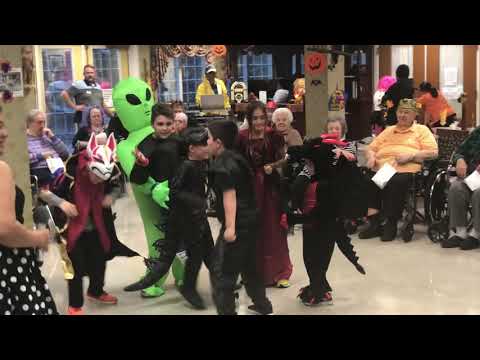 Fourth graders at Nixon Elementary School in Roxbury Township dance for Seniors at Nursing Home.